The Royal Paella of the Big Blue | To discover
THE SIMPLE RECIPE & RESTAURANT GOURMAND
"Turquoise".
Paëlla Royale du Grand Bleu de Nosy Be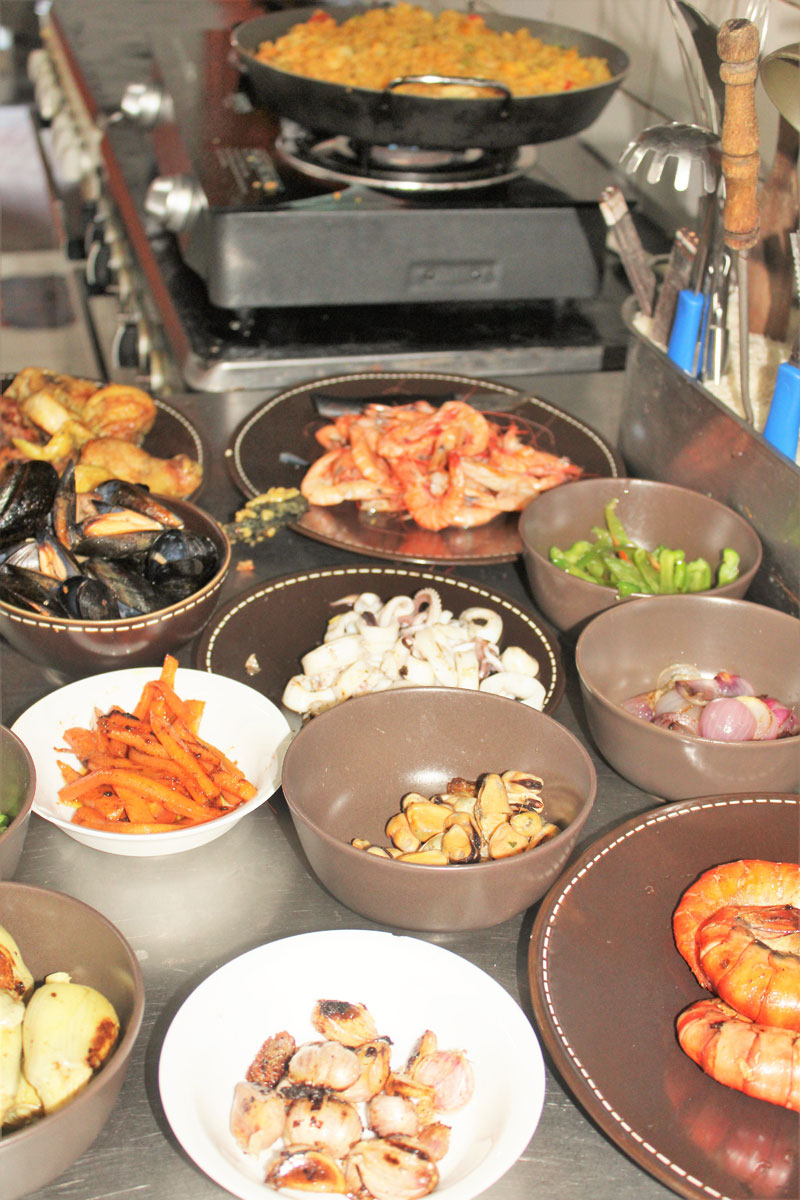 The Chef de cuisine reveals with pleasure his artisanal recipe of the month including the flagship and sublimated ingredients for this beautiful realization of the Paella Royale du Grand Bleu de Nosy Be.
Guests can enjoy it on a half-board, full-board or "all inclusive" basis, depending on the season and arrival; Because the establishment works exclusively with fresh products, a guarantee of gourmet flavors.
Practical information
Number of persons : 8 – Preparation and cooking time: 1 H 30
Degree of difficulty: Easy – Affordable
Ingredients for 8 people
500 g long grain rice, 4 chicken thighs
8 beautiful camarons (large shrimp from Madagascar)
400 gr of shrimp, 400 gr of mussels
500 gr of squid, 4 green peppers, 8 artichoke hearts
15 cloves garlic, 1 small pepper
1 bowl shelled peas
1 bouquet garni, 1/2 l olive oil
2 g of saffron, 1 bag of spigol from the Talensac market in Nantes
1 liter chicken broth, 1 clove
3 lemons, 4 onions, salt and pepper
Prepare all the ingredients, cook them one after the other in the pan with olive oil.
Once cooked, remove each ingredient and position them in a different dish.
This is the longest step.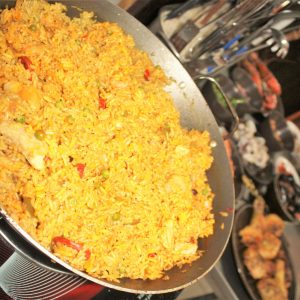 Then pour the rain rice always in the same pan with the same olive oil that has retained all the cooking juices.
Mix the rice well until it is translucent. Drizzle with broth to which you will have added filtered shellfish water as well as spigol and saffron. From the first simmer, add all the other ingredients already seared then slide the dish into the hot oven (th. 7) and cook for 10 minutes.
Then add more broth as soon as the rice has absorbed everything. Let finish cooking until the liquid is completely absorbed (it takes 7 to 8 minutes). Stir in the shelled molds.
Decorate the final plates with a beautiful camaron. Put a minute in the oven, drizzle with lemon juice and serve.
A great real delight guaranteed!! Savor, enjoy and share this moment with your loved ones! Signature of the Chef of the Big Blue of Nosy Be.