TRAINING COVID-19 GOOD SANITARY PRACTICES IN HOSPITALITY REALIZED IN THE BIG BLUE A NOSY BE
Le Grand Bleu welcomes tourism employees for COVID-19 training
good sanitary practices in hospitality, restaurants and cafes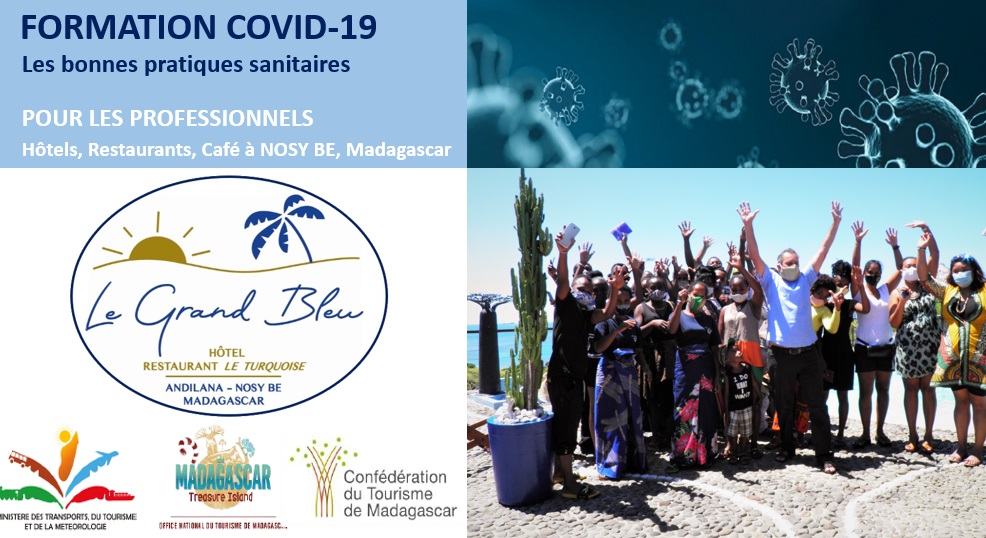 Under the aegis of Madagascar's Ministry of Tourism, Nosy Be Regional Tourism Office and the Madagascar Tourism Confederation, we have scheduled a COVID-19 training session with employees of the Andilana and Mount Passot establishments and organised at the Grand Bleu on 7 Septembre 2020.
Thus, the hotel workers benefited from this COVID-19 practical health training session.
⭕️ After a common core in all trades, health protocols have been declined by hotel functions. Thus, several sheets by sector were presented and discussed with the new uses for reception, the welcome, l'hébergement, common spaces and sanitary facilities, Laundry, the restaurant, The bar, breakfasts and meals, Kitchen, Pool, well-being with ZEN eSPAce, green spaces and technical services, la sécurité, also excusing protocols, experiences and transport.
Le Grand Bleu is actively involved in the formation of COVID-19 health protocols and hygiene protocols for the Catering Cafés trades with the presentation of the must-sees and recommendations.
Toute l'équipe du Grand Bleu intègre bien que rien n'est « gravé dans le marbre » et qu'automatiquement les pratiques du GRAND BLEU vont évoluer au fur et à mesure de l'expérience !
👉 With this pandemic, on paper, cela peut paraître « facile » … In practice, we all find together answers with effective and relevant methods.
Your safety is our priority to the Big Blue of Nosy Be
L'Hôtel★★ Restaurant Le Grand Bleu stays open. We keep the safety and health of our customers first., our employees and employees.
We also signed a "Charter Against Coronavirus", developed with the Ministry of Tourism of Madagascar and we are committed to, Obviously, to respect it.
Everything is already in place, whether it's at the level of devices against the spread of coronavirus for your best comfort.
By #le_grand_bleu_nosybe