L ' big blue to Nosy be Hotel won the certificate of ' excellence tripadvisor 2019.
Celine and Jacques announce today ' today l ' l getting ' attestation d ' excellence TripAdvisor®. since now 9 years, This award honors schools that maintain a level d ' excellence, d ' the excellent advice of travelers received on trip Advisor during the ' year. the winners of l ' attestation d ' excellence include accommodation, attractions and restaurants located all over the world, and continually provide a flawless customer experience.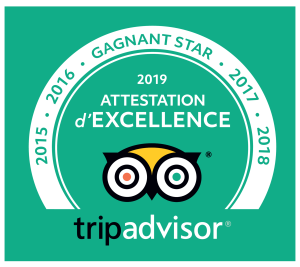 "TripAdvisor has the pleasure of ' announce the names of the winners of l ' attestation d ' excellence. 2019, "a reward that offers l ' honor for nearly ten years the institutions that have received any l ' year of ' excellent grades of travellers and guests on the biggest travel website in the world., has indicated neela pal, Vice-President of the brand for TripAdvisor. "this distinction allows us to pay tribute publicly to institutions that s ' actively committed to take into account the comments from customers to help travellers to identify places to eat with confidence., sleep and to explore the best rated. ' l ' attestation d ' excellence takes into account quality, the amount and the date of the notice sent by travellers on TripAdvisor over a period of 12 month. to receive a certificate d ' excellence, the average of the ratings given by a hotel on TripAdvisor travellers must be at least 4 on 5, and the institution must be referenced on TripAdvisor for at least 12 month.