OFFICIAL LAUNCH OF INSCRIPTIONS AT NOSY BE TRAIL 2019
The TRAIL race 2019 takes place on Saturday 7 December 2019.
Registration slips can be withdrawn now at the Tourist Office or online at this address : http://www.randorunoi.com/nosy-be-trail/
The route is 35 kms with a vertical drop of 2 400 metres.
Departure and arrival are at the hotel THE BIG BLUE at ANDILANA de Nosy Be.
We are pleased to unveil the new route.
This year, The course presents A NEW BELLE : the perimeter of the crater of the Atsoa Volcano at 270 degrees.
This novelty allows incredible and breathtaking views of Nosy Sakatia, Andilana Peninsula and Befotaka Bay.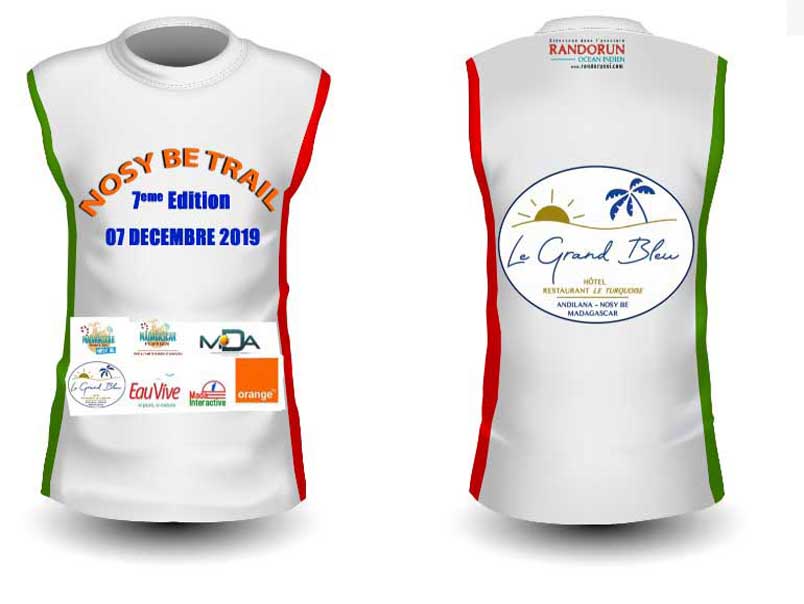 After bypassing the first sacred lake, runners will jump into the zebus plain to "swallow" the 100 metres of vertical drop of the volcano.
Champions will "eat" the slopes of the volcano in less than 2 minutes. On the Trail Trail, of course you have the 360-degree view of Mount Passot and now the new site of the volcano where we meet you between 7 H 30 and 9 Morning on Saturday 7 December, drones will certainly also be part of the game.
The volcano is at the end of its 2 miles from the finish to the Hotel le Grand Bleu.
The recognition of the volcano took place at the end of May 2019 under the leadership of Jean-Marie, Jacques and Cédric follow suit in the foothills of the Atsoa volcano, with local guide Saidou and part of the Grand Bleu team.
The medical certificate for TRAIL 2019 is mandatory